This popular sensor made by Sharp produces an analog output that varies from 3.1V at 4cm to 0.3V at 30cm.
Based on "typical values" from Sharp, the formula to translate output voltage ratio into distance is:
Distance (cm) = 2.076/(VoltageRatio - 0.011)
This sensor can find the distance to objects that present a very narrow edge such as a wall at a very sharp angle.
Note: The output of this sensor will vary from unit to unit, and based on the characteristics of the target (reflectance, size, direction of motion, and object alignment). Our formula is based on the data provided by Sharp. If you find that you are not getting good results with the standard formulas, you may want to derive your own formula to better characterize your situation.
Connection
The sensor plugs in the 1101 - IR Distance Adapter. See the Connection & Compatibility tab for details.
Product Specifications
Sensor Properties
Sensor Type
Distance (Infrared)

Controlled By

Sharp Adapter

Sensor Output Type

Ratiometric

Measurement Distance Min

40 mm

Measurement Distance Max

300 mm

Response Time Max

50 ms

Electrical Properties

Supply Voltage Min

4.5 V DC

Supply Voltage Max

5.5 V DC

Current Consumption Max

50 mA

Physical Properties

Weight

3.5 g

Operating Temperature Min

-10 °C

Operating Temperature Max

60 °C
Documents
If you are not getting good results with the standard formula, have a look at the product datasheet which has good notes on what can affect the sensor's performance
Accuracy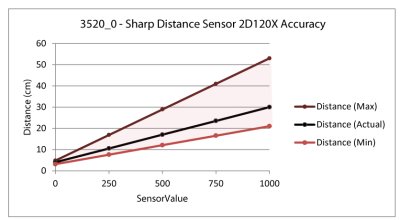 All measurements are based on data provided by Sharp who used an r-27 calibration card, 90% reflectance. Based on our formula, we have calculated a minimum and maximum distance with the card at minimum and maximum distance.
3520_0 - Sharp Distance Sensor (4-30cm)
Brand: Phidgets
Product Code:ES000176
Availability:In Stock