HS-485HB updates the very popular HS-475HB by adding more torque and greater speed. With a top ball bearing, heavy duty, high impact Karbonite™ gears and high performance circuitry, the HS-485HB offers lots of torque and features excellent centering and resolution.
RC servos are hobbyist remote control servos typically used in radio-controlled models, where they provide actuation for various mechanical systems such as the steering of a car, the flaps on a plane, or the rudder of a boat. These servos are not industrial grade and are not recommended for continuous heavy use.
Connection
This servo can be controlled by an RC servo controller. You can find a list of suitable controllers on the
Connection & Compatibility
tab.
Comes Packaged With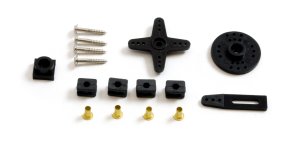 Product Specifications
Motor Properties

Motor Type

Limited Rotation Servo

Range of Rotation

180°

Maximum Speed at Rated Voltage

272°/s

Rated Torque

4.8 kg·cm

Physical Properties

Gear Train Material

Metal
Bearing Type
Top Ball Bearing

Motor Length

38 mm

Motor Width

39.8 mm

Motor Depth

19.8 mm

Wire Length

300 mm

Weight

45 g

Electrical Properties

Rated Voltage

5 V DC

Rated Current (on 1061 controller)

150 mA

Rated Current (on 1066 controller)

180 mA

Stall Current (on 1061 controller)

750 mA

Stall Current (on 1066 controller)

450 mA
These product specifications are based on our own tests using the HS-485 motor with the Phidgets 1061 and 1066 motor controllers.
Documents
3203_0 - Hitec HS-485HB Deluxe Servo
Brand: Phidgets
Product Code:ES000128
Availability:In Stock